Benvenuti Welcome Bienvenue
"CASA NEL BOSCO"
Siamo aperti da Aprile a Ottobre
We're open April to October and we're looking forward to meeting you !
CASA-VACANZE nel BOSCO astigiano a contatto con la NATURA
Una sosta perfetta vicino ad Asti in viaggio verso la Toscana o verso Milano
Prenotazioni/ reservation eventietrenta@gmail.com
telefona / call us +39.329.212.1915 / +39.333.642.6996
Abbiamo 3 camere indipendenti per pernottamenti e soste rigeneranti. Disponibili anche per una vacanza di qualche settimana.
A 10 minuti dall'autostrada - uscita ASTI OVEST - 50 km da Torino - 120 km dall'aeroporto di Milano Malpensa.
In mezzo alla natura, nel silenzio del bosco, una casa accogliente e colorata da ricordi di viaggio.
Abbiamo uno spazio di 45 mq adatto a incontri, yoga o workshop e un terrazzo affacciato sul bosco.
La storica città di Asti a 7 km vi incanterà con le sue piazze e le torri medievali.
Nei dintorni, da non perdere Cortanze e Montechiaro, due borghi antichi incastonati sulle colline.
Alba e le Langhe vi aspettano a 30 km di distanza, circa mezz'ora in auto.
Siete benvenuti anche per UNA SOLA NOTTE DI SOGGIORNO ANCHE IN UNA SOLA CAMERA
**************************************************************************
A pleasant stop while you're traveling toward Tuscany or Milan
A HOLIDAY HOME IN THE NATURE WHERE TO RELAX
We have 3 indipendent rooms for a relaxing break along your journey to Tuscany. Also available for holidays, weekends or few weeks.
Easy to reach from the highway E70 - exit ASTI OVEST - 50 km from Torino -, 120 km from Milano Malpensa airport.
A natural setting in the woods. A welcoming home full of colours from our journeys abroad.
We also have a 45 sqmt yoga studio available for meetings, yoga or group workshops and a terrace overlooking the woods.
The historical city of Asti is worth a visit with its medieval towers and ancient squares.
Don't miss the castles of Cortanze and Montechiaro nearby, impressively perched on the hills.
The city of Alba and the Langhe region are waiting for you only 30 km away, half an hour by car.
You are welcome to book ONE NIGHT ONLY ALSO IN ONE ROOM ONLY
****************************************************************************************
YOU CAN BOOK ON HOLIDAY LETTINGS the full house / SU HOLIDAY LETTINGS POTETE PRENOTARE L'INTERA CASA
https://www.tripadvisor.it/VacationRentalReview-g4126388-d8435775-CASA_NEL_BOSCO_ASTI-Serravalle_Asti_Province_of_Asti_Piedmont.html
*******************************************************************************************************************
LINK UTILI / useful links
http://www.comune.cortanze.at.it/
http://www.turismoinlanga.it/pagine/ita/d_territorio2.lasso?cod=55145C581d71d1EBDEOwn441B45A
ALTRI LINK / other links
---
Entrata - Terrace
Room Alloro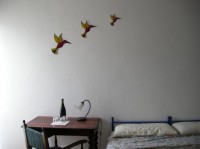 Giardino - Backyard
Room Alloro detail
Corridoio - Hallway
Room Bamboo
Suite
Suite detail
Yoga Studio
Giardino - Garden
Angolo del silenzio - Silent corner
SERENDIPITY

nel silenzio del bosco senza traffico intorno a te,

solo la natura

in the silence of the woods with no traffic around you,

only nature